PCR Test vs At Home Test: Which One Should You Get?
·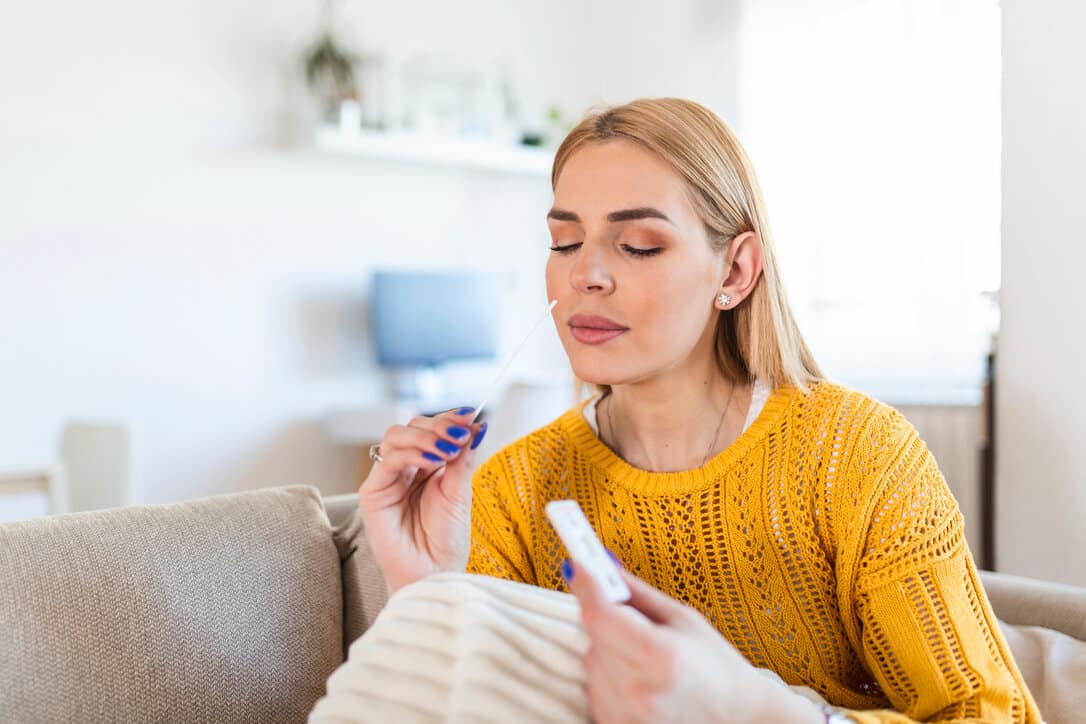 Getting tested has been proven to be one of the most efficient ways to prevent the Covid-19 virus from spreading. There are multiple types of tests you can choose from, based on your needs. Recently, at-home tests have become increasingly popular.
But more options might lead to more questions:
What type of Covid test is better for each situation?
Which one is more accurate?
What tests are needed for travel?
Are you wondering which type of test is the right option for you? In this post, we'll compare getting a PCR test vs. at-home tests. We'll also answer the most popular questions people have about getting tested at a lab versus getting tested at home. Let's dive in!
PCR Tests vs At Home Tests: What's the Main Difference?
Before we begin, it's worth clarifying what we mean by "at-home test". Most commonly, when people talk about "at-home tests", they're referring to rapid Antigen tests. These tests produce a result in minutes, so you can take them at home and get a result very quickly.
PCR tests can also be taken at home. But, you'll have to send the sample to a lab. The lab will get back to you with your results within a couple of days.
The main difference between PCRs and rapid Antigen tests resides in how and where your sample will be processed. Let's take a closer look.
PCR Tests
PCR tests, also known as molecular tests, are processed in laboratories.
The results are available within 1-7 days, depending on the lab's capacity. PCR tests have a very high degree of accuracy.
You can get a PCR test at a testing location such as a lab, a public hospital, or a private clinic.
Antigen Tests
You won't need to take a rapid Antigen test to a lab. The kit itself will include everything you need to process the sample. The results only take 10-15 minutes, but they have a moderate level of accuracy.
You can get an antigen test at home, or book an appointment at a testing location to get it done by a healthcare professional. Antigen results are the most accurate when a person is experiencing symptoms. They can detect asymptomatic cases, although false negatives are likely.
How to Get an At-Home Testing Kit
As we mentioned previously, PCR and Antigen tests can be performed at home. Rapid Antigen tests will provide you with results within minutes, on the spot. Whereas, for PCR tests, you must send the sample to a laboratory, and wait for the results.
In the USA, getting tested in a pharmacy, doctor's office, or a Covid testing center is mostly free or covered by health insurance. However, rapid Antigen tests performed at home are very rarely covered.
You can get a rapid Antigen test at a drugstore, and you won't need a prescription. There are various brands available, and average pricing starts at $24 for a set of two.
These tests are quite easy to use and their design is similar to a pregnancy test. But each one requires a slightly different procedure. When you get your kit, read its instructions and follow them carefully. Otherwise, you might get a false negative.
If you want to get a rapid test after being in close contact with an infected person, you should get tested 3 days after the event. If it's negative, you should retest on days 5 and 7.
Nevertheless, if you are experiencing symptoms but continue to test negative, it's better to follow up with a PCR test at a testing location.
What Type of Test Should You Get?
At-home tests can be helpful if you need an immediate answer. They may be a good option for general screening, or:
Before a visit to an immunosuppressed or elderly person
Before and after a mass gathering
After being in close contact with an infected person
However, an Antigen test may not be ideal if you're suffering from strong Covid-19 symptoms.
Common symptoms include:
Cough
Shortness of breath
Fever
Tiredness
Sore throat
Diarrhea
Headache
Loss of taste or smell
Given their high degree of accuracy, experts recommend getting a PCR test to confirm a Covid-19 infection. Although infection may seem obvious, you should confirm it to prevent false diagnoses and get the appropriate treatment.
Additionally, if you plan to travel, you may need a negative PCR test result as one of your destination's entry requirements. Most travel authorities won't take at-home tests as proof that you are Covid-free. This is why PCRs are considered the golden standard for Covid-19 testing. Some nations may also accept Antigen tests as proof, but only if they are performed at an authorized facility.
Stay Safe, Get Tested
Wondering where to get a PCR or Antigen test? No matter where you are, find Covid-19 testing centers near you with our international directory.