EU Covid Certificate: What It Is & Why It Matters
·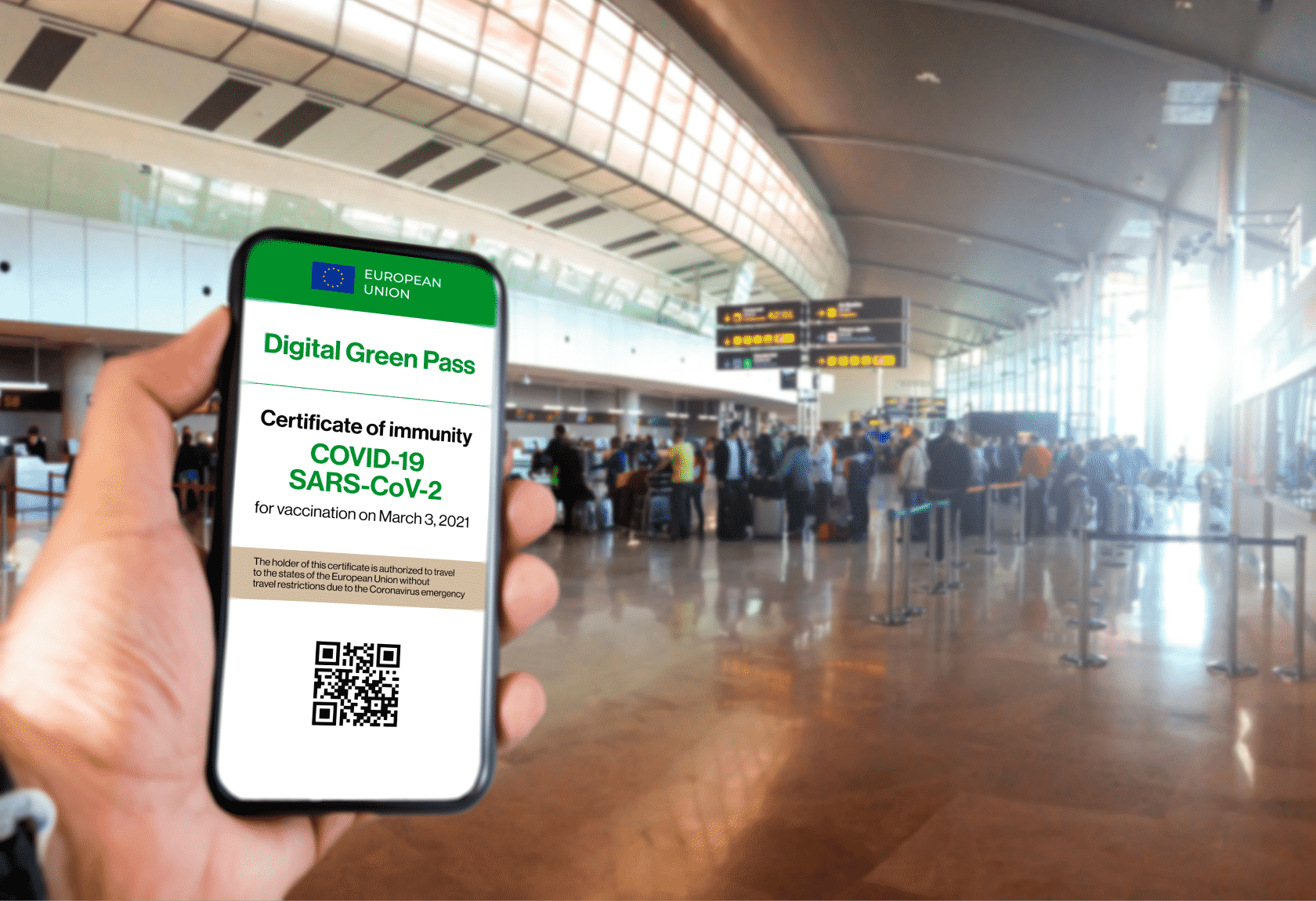 In 2020, the pandemic took its toll on the travel industry. But fortunately, this year traveling is becoming common once again.
Are you eager to travel through Europe? In this article, we'll share everything you need to know about the new EU Covid certificate. Let's begin.
What Is the EU Covid Certificate?
For starters, let's define what the EU Covid certificate is, and how to obtain it.
The purpose of the EU passport is to prove that you either:
Have been vaccinated against Covid-19
Have received a negative test result
Have recovered from Covid-19
In either of these scenarios, the chances of you carrying the virus are quite low. Hence, this certificate will enable you to travel through the EU without experiencing free movement restrictions. For instance, when you land at your destination, you may not have to quarantine. With the EU Covid certificate, member states are progressively lifting restrictions in a coordinated and safe manner. As a consequence, travelers can have a better experience while keeping the virus at bay.
What's more, 16 non-EU states have joined the EU Covid Passport system. These countries are:
Albania
Andorra
Faroe Islands
Israel
Iceland
Liechtenstein
Morocco
Monaco
North Macedonia
Norway
Panama
San Marino
Switzerland
Turkey
Ukraine
The Vatican.
Covid certificates issued in those countries are valid under the same conditions as EU Covid certificates. And, if you'll travel to any of these countries, your EU certificate will be more than enough.
The EU Covid Certificate is free of charge. You can get your EU Covid Certificate in either a digital or a paper format. It includes a QR code to certify its authenticity.
The document can be issued in both English and the national language of the country where you got vaccinated, were tested or recovered from Covid-19. It's valid in all EU countries, and it has a single design, making it easy to identify.
This document only contains key information (e.g: name, date of birth, vaccine name, etc.), keeping your sensitive data safe and sound.
For now, the certificate will be valid until July 1st, 2022. However, three months before the deadline, the EU will determine whether or not to extend its use.
How to Get the EU Covid Passport
This certificate is available for all adults and children who are either EU citizens or non-EU nationals with a residence permit in a member state. Non-EU nationals must have the right to travel within the EU.
If either of these conditions applies to you, you can get the certificate from the national authorities of the country where you were vaccinated, got tested, or recovered from Covid-19. But, if you were vaccinated outside the EU, you will have to prove your vaccination to the authorities of your country of residence.
In any case, if you want to know how to get your certificate, visit the website of your local health authorities.
The Details
As already mentioned, you need to either be vaccinated, tested, or have recovered from Covid-19 to have access to the certificate.
Nonetheless, there might be some nuances to consider for each of those scenarios. In this section, we'll dive a little deeper.
Vaccine
Good news: Regardless of which vaccine you've received, you can get your EU Covid certificate. Still, it's important to remark that only those who got vaccines with EU marketing authorization and are fully vaccinated, will have the travel restrictions waived. Nevertheless, in the case of unvaccinated children under 12, they are exempt from quarantine or travel-related testing if their parents are as well.
Everyone else will be subject to the global travel requirements of the country they'll be visiting. Some may waive the travel restrictions, some may not.
Do some extra research if:
You've received a vaccine that is not authorized in the EU, but that's mentioned in the WHO emergency list
You've only received one dose of an EU-authorized vaccine
Tests
The EU and the 16 countries are currently accepting NAAT tests (including RT-PCR), and rapid antigens tests. If you test negative to either one of them, you should have travel restrictions waived. However, each nation can choose whether they take both types of tests or only PCRs.
In the case of PCR tests, they should be performed 72 hours prior to your flight, while antigens tests can be taken just 48 hours before.
In addition, NAAT tests are eligible not only to prove that you are Covid-negative but also that you were Covid-positive and have recovered. In that case, your EU covid certificate can be issued 11 days after the initial test.
What Can You Do With Your EU Covid Certificate?
The EU covid certificate is here to facilitate free movement across nations. Basically, it waives traveling restrictions for three types of individuals:
Fully vaccinated individuals, who should be exempt from travel-related tests and quarantine, 14 days after the last dose.
Recovered individuals, who should be exempt from quarantine and travel-related tests during the first 180 days after a positive PCR test. This condition applies whether they were fully vaccinated or just received a single dose.
Individuals with a negative test certificate, who should be exempt from possible quarantine 72 hours after the PCR test, and, where accepted, 48 hours after the rapid antigen test (unless they come from regions heavily impacted by the virus).
Furthermore, your certificate could also be useful to access events or venues, but this use case has not been regulated by the EU yet. Therefore, the best you can do is to check whether any local certificates are needed in your destination, or if the certificate is considered sufficient.
Key Takeaways
All in all, the rules to get your certificate and travel smoothly through the EU are simple. But some countries can have some extra conditions, besides those already imposed by the EU. Bearing this in mind, the best you can do is to research and plan in advance.
With precaution and the right information, you can enjoy your trip to the fullest while keeping everyone around you safe.
Do you need to get tested for Covid-19? Visit our international directory to discover testing locations in your area.