Covid Testing: When Is It Necessary to Get a PCR Test?
·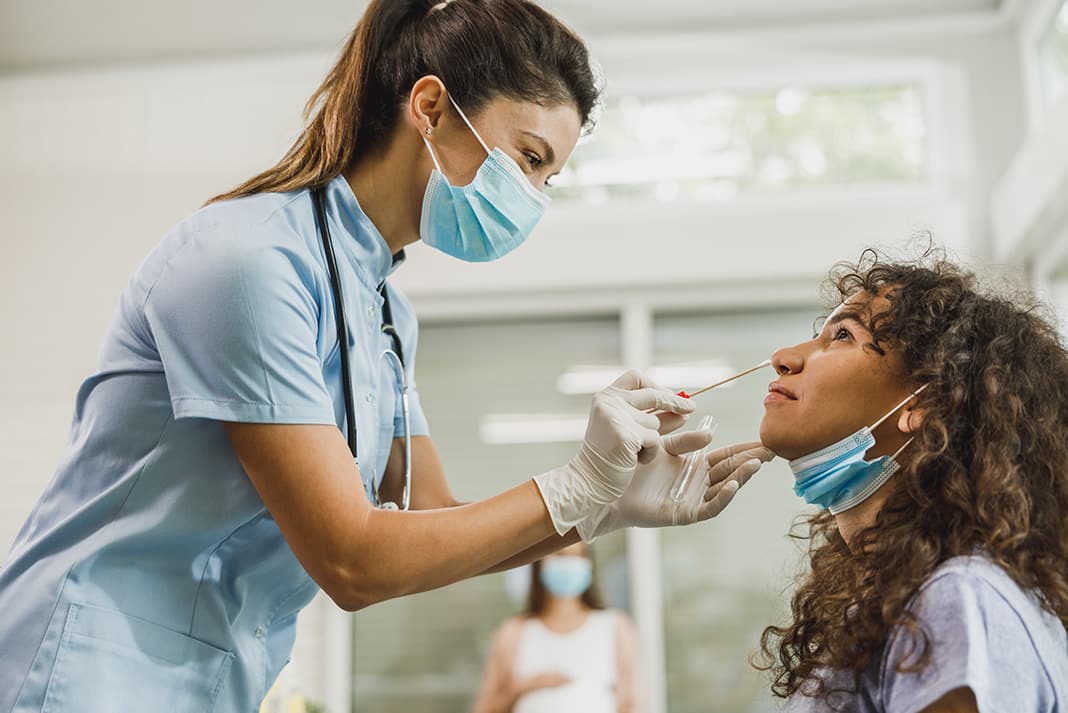 Getting tested for Covid-19 has become one of the key ways of preventing the virus from spreading, alongside washing your hands regularly and wearing a mask. Various types of tests have been implemented since the pandemic hit. The most popular and requested one is the PCR test.
In this post, we'll explain the most important aspects of PCR tests.
We'll go through:
What they are
Pros and cons
When they're necessary or advisable
What to do when your results are ready
What Is a PCR Test?
First and foremost, let's get a clear definition of this type of test. A PCR test is a viral test that checks samples from your nose and mouth and shows if you're infected with SARS‐CoV‐2, the virus that causes Covid-19. It can be performed at a laboratory or at a testing center.
Nonetheless, it's worth mentioning that PCR tests do not show whether you've been infected in the past. In that case, you should get an antibody test instead.
The Pros & Cons of PCR Tests
According to the College of American Pathologists, PCR tests have a sensitivity of 80% and a specificity of 98-99%. A PCR test is the most accurate way of detecting whether you have Covid-19.
Aside from their precision and reliability, two other factors make PCR tests extremely convenient:
Almost all airlines and countries accept them as proof that you're Covid-free
You can get them in thousands of testing locations, all around the world
But PCRs have two disadvantages:
They can take up to 72 hours
As we've already mentioned, PCRs don't detect previous infections
When Should You Get Tested?
Last year, getting tested frequently was highly advisable. Especially if you were an essential worker, or if you were in contact with people who were especially vulnerable to Covid.
There are specific occasions in which getting tested is a must. You should get tested if you:
Have symptoms of Covid-19
Had close contact with an infected person
Are not vaccinated and were in a high-risk situation
Are traveling abroad
Have been asked to get tested by healthcare authorities
Getting tested after experiencing Covid-19 symptoms
If you have symptoms, regardless of your vaccination status or previous infection, you should get a PCR test.
Common Covid-19 symptoms include:
Fever
Fatigue
Loss of taste or smell
Dry cough
You can get a full list of Covid-19 symptoms by visiting the official website of your local health authorities. The CDC is an excellent reference.
Getting tested after close contact
If you've had close contact with an infected person, and you're fully vaccinated, you should get tested 5-7 days after exposure. Whereas, if you're unvaccinated or not fully vaccinated, you should get tested as soon as possible.
Getting tested after participating in mass gatherings
In scenarios like flights, mass gatherings, or indoor settings with poor air circulation, it may be unavoidable to have close contact with other people. If you've been unable to keep social distance in one of these settings, you may be at risk of getting infected. Especially if you're not vaccinated, we recommend you get tested for Covid-19.
Getting tested for travel
If you're traveling and your destination asks you to prove you're Covid-free, you'll probably have to take a PCR test. Pre-travel PCRs are most commonly required 24-72 hours before the flight.
Getting tested after your doctor requires it
Especially if you'll be participating in high-risk activities, or have a medical condition, your healthcare provider or local health authorities might require that you get tested.
In addition, bear in mind that once you get the test, you should self-quarantine while waiting for your results. It's important that you take some measures to keep the virus from spreading. Especially to those who are at risk of getting severely ill if they contract the virus.
If You Test Positive
If your test comes out positive, in addition to contacting a doctor, you should isolate yourself for 10 days. It doesn't matter if you've been vaccinated, or whether you have symptoms or not. If you're Covid-positive, you should stay home.
Given the case that you develop symptoms, you should quarantine for 10 days after they begin to show. Anyhow, if after this period you are still feeling unwell and still need medication, contact your doctor so they can guide you on how to continue. Odds are that you'll be asked to isolate for a few more days. The isolation period can also prolong if you:
Are severely ill or have a weakened immune system
Got a positive result after a negative result
Test positive after various weeks of the initial result
Generally, people can recover from mild Covid-19 at home. Nevertheless, if your symptoms get worse, contact your health provider. If you have underlying medical conditions or are an older adult, be especially vigilant of your symptoms.
If You Test Negative
If the virus wasn't detected and you tested negative, amazing! You are not sick. Still, if you have Covid-19 symptoms or have been exposed to an infected person, you should quarantine preemptively.
Testing negative while having symptoms
In this case, your results might have been a false negative. Health authorities often recommend that you stay at home and contact your healthcare provider. Be especially cautious if the symptoms get worse.
Testing negative after being exposed to an infected person
If you don't show symptoms, but were in direct contact with a person with Covid-19, you should self-quarantine. If you are not fully vaccinated, there are chances of you getting sick, even if your test comes out negative. Therefore, the CDC recommends you self-monitor for symptoms, and quarantine for 14 days. If symptoms develop during that period, contact your healthcare provider.
With this in mind, if you don't have any symptoms and weren't exposed to the virus, or if you're fully vaccinated, you don't need to quarantine or isolate.
Discover Where to Get a PCR Test In Your Area
Depending on where you are, you will have multiple options available. Lucky for you, you won't have to scroll through Google to find each one of them.
We have developed an international directory, where you can find the nearest Covid testing center in your area, and book an appointment if needed. Visit the directory and discover the best testing locations near you.