Visiting Mexico on Día de Muertos: Top Destinations + Travel Requirements
·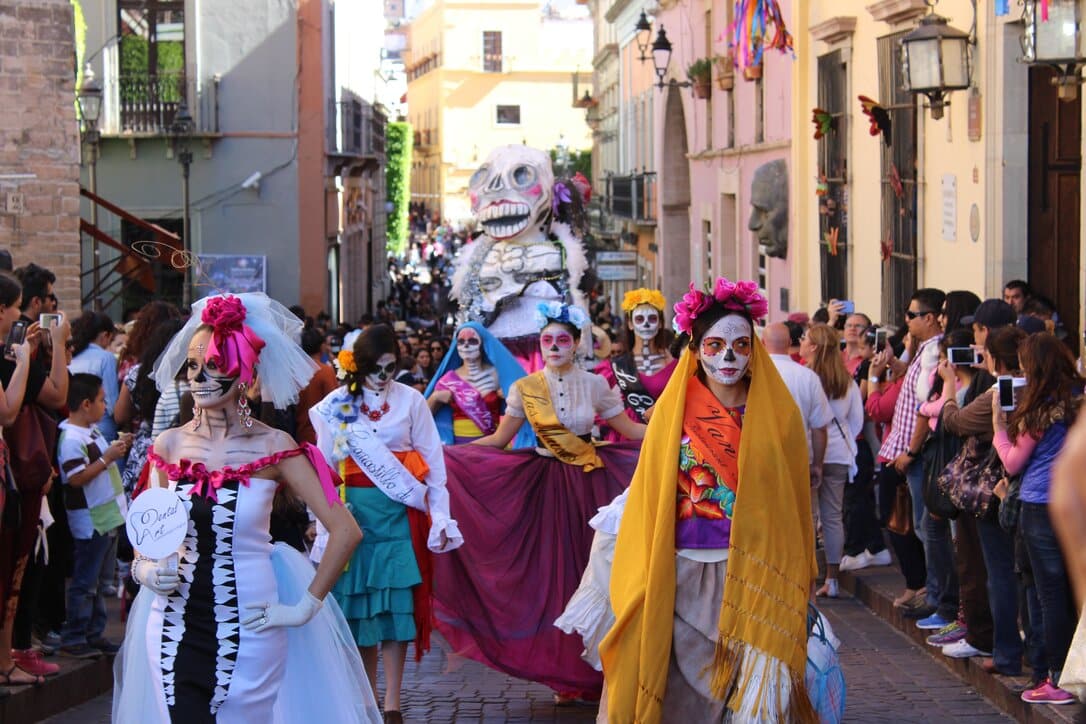 Traveling to a new country is a great way to discover a new culture. And what better way to get a close look at the local values, lifestyle, and food than attending a local festival?
If you've been planning to visit Mexico, we definitely recommend you to go there during Dia de Los Muertos, one of the country's most important holidays. Participating in Dia de Los Muertos events is absolutely worth it, even if you're visiting Mexico for just a few days.
In this post, we'll share everything you need to know to attend, including:
What's Dia de Los Muertos and how it's celebrated
3 Mexico destinations to visit during Dia de Los Muertos
Mexico's current COVID-19 travel requirements
Ready? Let's dive in!
What Is Dia de Los Muertos?
Dia de Los Muertos (also known as Día de Muertos and Day of the Dead) is an annual celebration dedicated to honoring and remembering loved ones who have passed away. Its roots go back about 3,000 years starting with pre-hispanic rituals honoring the dead. Life was viewed by the Aztecs as cyclical, and death was viewed as an integral and ever-present part of it.
Contrary to what many may believe, Dia de Los Muertos in Mexico is not a somber occasion or a Mexican version of Halloween. On the contrary, since Aztec times, it's been a celebration to honor the deceased. And nowadays, Dia de Muertos combines Mesoamerican rituals, European religions, and Spanish culture.
Dia de Muertos is a special and unique holiday throughout Mexico. It's even included as one of Mexico's intangible Unesco World Heritage Sites (along with mariachi and tequila).
How Is Dia de Los Muertos Celebrated?
Dia de Los Muertos has traditionally been a family affair. Families build ofrendas (altar offerings) to honor their passed relatives. These altars are decorated with:
Candles
Marigold flowers
Opal incense
Pictures of the departed
Their favorite foods and drinks
However, you don't need to assist a family event to get to see an altar. Many museums display massive ofrendas for everyone to see.
What's more, you can find the towns and cities decorated with colorful aljibes (mythical creatures) and calaveras (skulls). Plus, shops and restaurants are decorated with papel picado (paper flags)
It's also quite common to see people on the streets dressed up as La Catrina with beautiful floral headbands and face paint.
Additionally, during this celebration, you can also expect to see:
Candlelit cemeteries to wander through
Parades
Concerts
Nighttime boat rides
And more
It's fair to say that Dia de Los Muertos has changed in recent years due to the COVID pandemic. After taking a significant backseat in 2020, a number of events were able to take place again in 2021. However, there were some brand new Dia de Los Muertos events introduced last year. And it's said that this year's celebrations are going to be bigger and better.
Now let's take a look at some of the best places to visit during this holiday.
3 Places to Visit During Dia de Los Muertos
While traditions are quite similar throughout Mexico, each place has a unique way of celebrating Dia de Los Muertos. These are just a few of the places you can visit during this holiday:
Mexico City
Michoacán
San Luis Potosí
Let's get a closer look.
Mexico City
Mexico City held its first Day of the Dead parade in 2016, and it's become a must-see celebration for visitors. The streets are filled with giant floats and colorfully costumed entertainers and dancers. Each block of the parade is lined with joyful spectators who join in the fun, stretching from the Estela de Luz (Pillar of Light) monument to the city's main square.
Michoacán
Michoacán's Day of the Dead celebrations are a legacy of the Purépecha, the region's original inhabitants. During the celebration, the food fills the streets and alleys of Michoacán and it becomes one of the main attractions.
Must-trys include:
Poblanos, which are peppers stuffed with cheese and capeados (covered in egg).
Pan de muerto, a traditional sweet bread covered in sugar.
Atole, a non-alcoholic drink commonly used for dunking pan de muertos. It's made from masa harina flour, sweetened with cinnamon, brown sugar, and sometimes chocolate.
Alegrias candy, which is crispy traditional candy made of raisins, assorted nuts, and honey.
San Luis Potosí
In La Huasteca Potosina, the indigenous people participate in every Dia de Los Muertos tradition, including ofrendas, skeleton decorations, and marigolds. There, the celebration is also known as Xantolo.
This region, however, also celebrates Xantolo with day-long festivals starting in late October and lasting until early November. Here, it's also common for locals to organize "welcome arches" that include different offerings for tourists.
Mexico Travel Requirements
As of today, there are no travel restrictions for entering Mexico. Likewise, you won't be required to quarantine or get tested – although getting tested is always recommended.
Nevertheless, the Mexican government encourages standard COVID prevention measures, such as:
Social distancing
Frequent hand washing
Coughing or sneezing on the inner part of your elbow
Mask-wearing in crowded, indoor areas
You can always check the current status of the pandemic in Mexico on the country's official Coronavirus website.
Key Takeaways
Dia de Los Muertos is a big event in Mexico. It's so unique that it's worth organizing your next trip to Mexico around it.
However, given the magnitude of this event, you can expect to see large crowds at both public parades and restaurants. Therefore, we highly recommend you remain cautious and follow all COVID-19 preventive measures.
Want to get tested before your next adventure? No matter where you are, or what type of test you need, find testing locations near you with our international directory.n