International Travel Restrictions: A Travel Guide for the Omicron Wave
·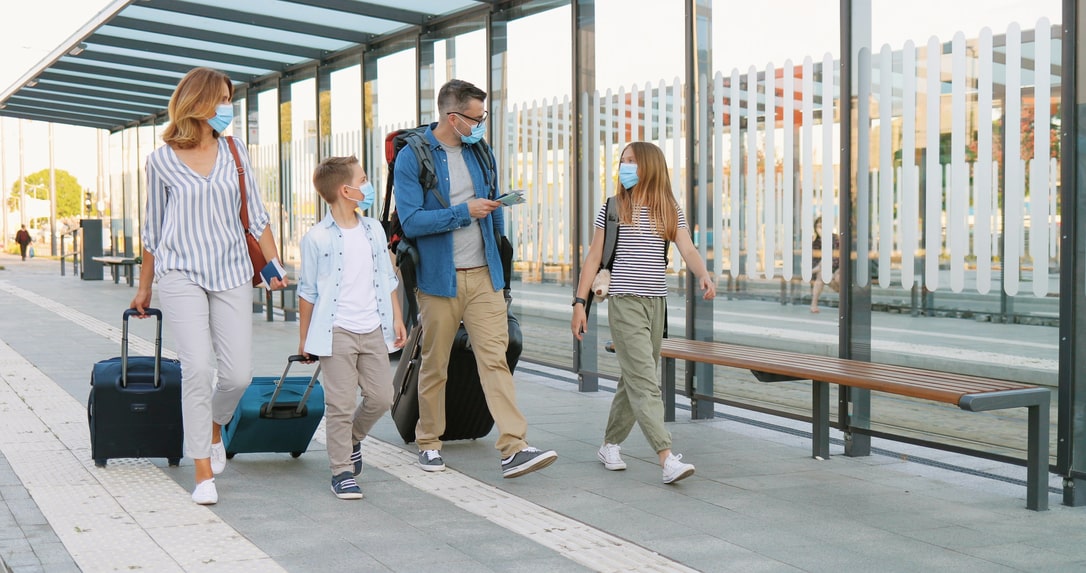 Since early 2020, preventing the spread of the Covid-19 virus has been a top priority in every government's agenda. But, in the last two years, the virus developed multiple variants. The latest one was recently discovered in South Africa, and it was named Omicron.
Even though Omicron seems to have a low mortality rate, it's the most contagious strain we have known up to date, and it has caused a surge in Covid-19 cases all over the world. Consequently, authorities were forced to rethink their international travel restrictions.
If you're planning to travel abroad in early 2022, this post is for you. Today, we'll share the most recent information about Covid-19 travel restrictions in some of the world's most popular destinations.
This quick guide can help you get a sense of what to expect when traveling. If your destination isn't on the list, you can discover its specific restrictions with our Global Travel Requirements Search Tool.
Without further ado, let's dive in.
Australia
Unfortunately, Australia is currently closed for tourism. However, you can travel to and from the country if you are fully vaccinated and:
In some cases, you may be able to apply for an exception. For instance, if you're the relative of an Australian citizen or resident, if you're a temporary visa holder, or if you're a fully vaccinated traveler from a neighboring country. You can find more information on the Australian government's website.
Furthermore, all travelers must comply with the following requirements:
Presenting a negative PCR test taken within 72 hours before departure
Filling out an Australia Travel Declaration 72 hours before flying
Having a foreign vaccination certificate
Quarantine and post-arrival testing requirements will depend on the local rules of the state you're visiting.
Italy
If you're planning to visit Italy for its museums, its food, or its beautiful natural landscapes, we have great news for you. Both vaccinated and unvaccinated travelers from most countries are welcome. But, you must show a negative Covid test upon arrival.
Italy is current accepting:
An antigen test performed 24 hours before departure
A PCR test taken up to 48 hours before departure
If you're unvaccinated, in addition to the pre-departure test, you must also undergo a 5-day quarantine after you arrive. To be released from quarantine, you'll need to take another Covid-19 test.
To visit most indoor venues, you'll be required a "green pass", certifying your Covid-19 status. Plus, the country is color-coded to differentiate the areas that might present a greater risk. In these areas, there are stricter restrictions. Most of the country is currently in a low-risk color, so hotels are open and indoor dining is allowed in most regions.
However, at the same time, Italy remains in a state of emergency until the end of March. Hence, the government can introduce new regulations at short notice.
Lastly, inbound travel from South Africa, Lesotho, Botswana, Zimbabwe, Mozambique, Namibia, and Eswatini is banned.
Argentina
Have you been planning to visit the land of Tango? Here's what you need to do to enter Argentina:
Take a PCR test 72 hours before you arrive. This rule doesn't apply to children under 6 years of age.
Fill out an online form within 48 hours before departure
Additionally, you must get travel insurance that covers Covid-19.
Those who are visiting the country for tourism purposes must be fully vaccinated and take a second PCR test between their third and fifth day in the country.
Non-vaccinated travelers are only allowed entry if:
They're traveling for business
They're traveling to fulfill academic duties
They're going to take part in sporting events
They're visiting a relative
They hold a visa and are migrating to Argentina
They're in the country to seek urgent medical treatment
In those cases, non-vaccinated travelers must undergo a 7-day quarantine after their arrival. After quarantine, they'll have to take another PCR test.
While in the country, you must be fully vaccinated to participate in public activities or to access hotels, restaurants, and clubs. Additionally, you must wear a mask in indoor public settings.
Spain
If you're arriving in Spain from a high-risk area, you can now present an Antigen test to enter the country, as well as a PCR test. Inbound travelers from low-incidence areas can enter test-free.
If you're traveling from the UK, you'll only be allowed entry if you're fully vaccinated. Children under 12 years old traveling with an adult are exempt from this rule.
Flights from South Africa and Botswana have been banned since November 30th.
United Kingdom
The UK is currently welcoming travelers from across the globe. In addition to the current UK travel restrictions, you must present Covid passes to attend large venues and wear a mask in most public spaces, including public transportation and shops.
The UK government has removed all countries from the red list, so for now, there's no need for quarantining after arrival.
USA
Before boarding your flight to the USA, you must either:
Show a negative viral test result. It can be an Antigen test or a PCR test, performed 24 hours before your arrival to the USA. Children under 2 years old are excluded from this rule.
Show proof of Covid-19 recovery in the last 90 days.
Additionally, all air travelers will also have to provide contact information to airlines. By doing so, airlines can easily contact travelers that may have been exposed to the virus during their flight.
If you are a non-U.S. citizen or a non-U.S. resident, you must demonstrate that you are fully vaccinated against Covid-19.
Key Takeaways
In this post, we took a look at the current Covid-19 travel restrictions for 6 destinations across 4 continents. While some popular travel destinations are welcoming tourists, others are still quite restrictive. For instance, Japan.
Before you travel, always visit the official website of your destination's health authorities, to find detailed and reliable information about their travel requirements.
Across this post, you may have noticed a pattern: All the countries we mentioned encourage testing. Whether you're traveling locally or internationally, getting tested can keep you and those around you safe.
Want to get tested? Discover Covid-19 testing locations near you with our international directory.