Bathing in the Dead Sea: Mud & Salt Benefits + Travel Tips
·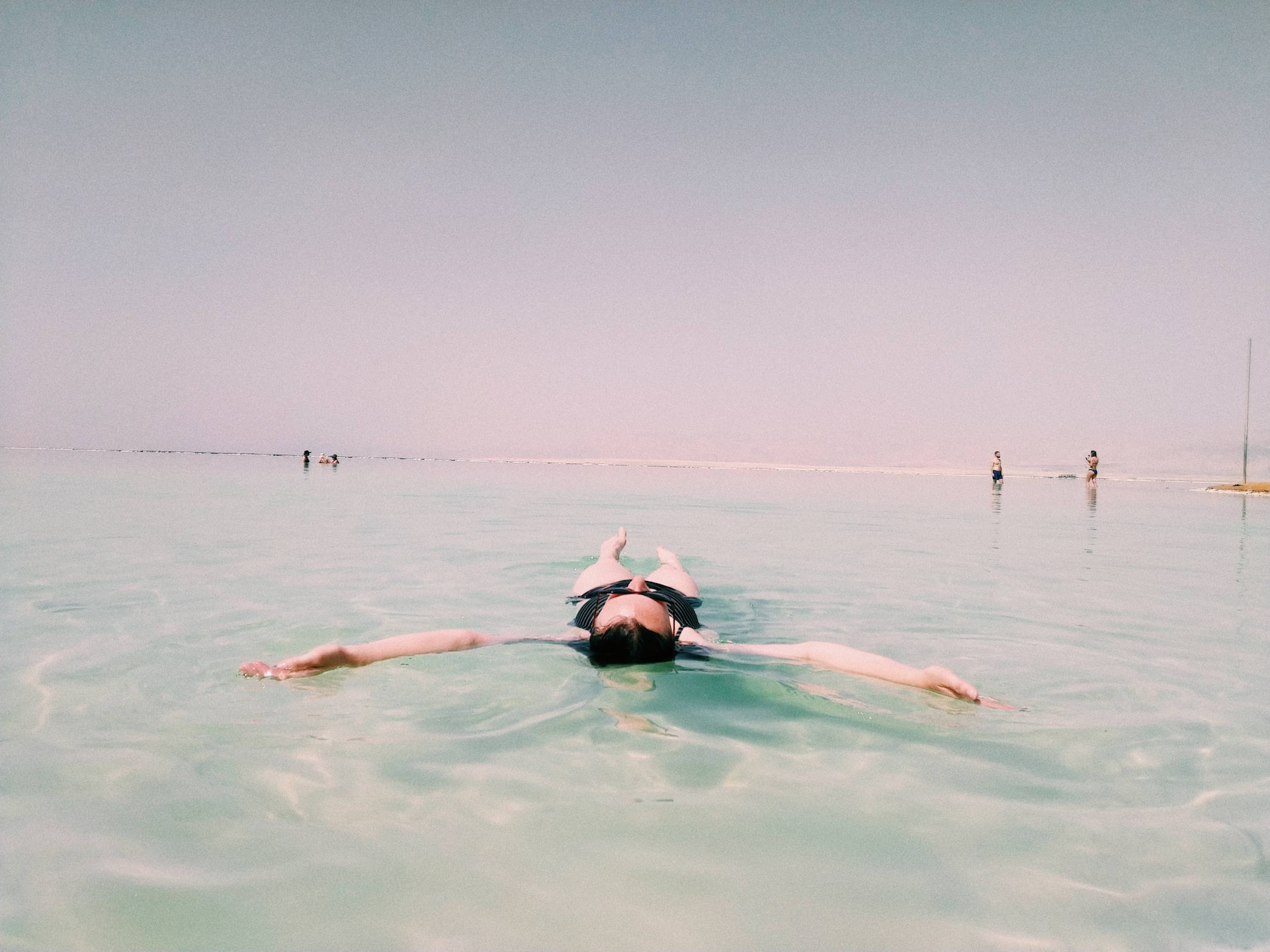 Traveling the world can be an incredibly enriching and rewarding experience. In fact, while visiting new places, you can also take care of your physical and mental health. And the Dead Sea is a great place for that.
The Dead Sea, located between Jordan and Israel, is a unique travel destination that offers visitors a breathtaking natural landscape and a wealth of health benefits.
If you've been planning a visit to the Dead Sea, we've got you covered. In today's post we'll share:
What makes the Dead Sea a unique travel destination
Dead Sea mud health benefits
Dead Sea bathing tips
What Dead Sea beaches and spas have to offer
How to get around
Ready? Let's get started.
What Makes the Dead Sea So Unique?
Located in the Middle East, the Dead Sea is at 1,000 below sea level, making it the lowest point of any body of water on earth that is surrounded by mountains. It contains nine times more salt than the ocean, and, as a result, the surrounding mud and silt are rich in a variety of minerals, such as:
Sodium
Magnesium
Calcium
Potassium
The Dead Sea's high salinity and mineral concentration prevent fish and other aquatic species from growing, giving it its name. But, this is also the reason why it's highly beneficial for a wide range of health conditions, from muscle inflammation to psoriasis. Plus, it makes it possible to float effortlessly on the surface.
Dead Sea Mud Health Benefits
With its high salt concentration and mineral-rich mud, the Dead Sea has long been renowned for its therapeutic properties and is a popular destination for travelers seeking natural healing remedies.
Taking a dip in the Dead Sea, or applying Dead Sea mud can help you:
Improve psoriasis
Reduce skin impurities
Treat acne
However, it's worth noting that some people's skin is sensitive to some of the metals the Dead Sea contains, such as nickel and chrome. If you are one of those people, it's better for you to avoid it as a topical treatment.
Visiting the Dead Sea
Now that you know all the health benefits of the Dead Sea, here are some tips for your visit, including:
What to consider before dipping in the Dead Sea
What Dead Sea beaches and spas have to offer
How to get around
Let's get a closer look.
Dead Sea Bathing Tips
As you already know, the uniqueness of the Dead Sea provides multiple health benefits. However, given its highly salty nature, you should take some precautions before bathing.
We recommend you:
Don't shave for a day or two before you visit the Dead Sea. Otherwise, the water minerals cause any scratch to sting.
Avoid wearing jewelry unless it's 24-carat gold. The water will make any other metal tarnish (you may still be able to clean it later).
Make sure to wear flip-flops. The Dead Sea bottom can be rocky and sharp. Hence, we recommend you wear flip-flops or other similar footwear to protect your feet.
Protect your eyes. The high salt content in the Dead Sea can cause stinging and irritation in your eyes. We recommend you avoid splashing or dunking your head.
Keep yourself hydrated. Be sure to drink lots of fresh water as the Dead Sea's dry heat (up to 47°C) can quickly dehydrate you.
Dead Sea Beaches & Spas: What To Expect
It comes as no surprise that the Dead Sea is also an ideal place for relaxation and retreat. Some public beaches on the Israeli side offer various amenities, such as:
Open-air showers
Shade shelters
Changing booths
Toilets
A paved walkway
Nighttime lighting
Plus, the Dead Sea is a great place to retreat yourself in mineral spas. Many of them offer:
Mineral baths
Health and beauty treatments
Freshwater swimming pools
Saunas
In some places, you can even smear yourself with invigorating Dead Sea mud.
Getting Around
If you don't have much time, you can visit the major sites along the western Dead Sea in one day from either Jerusalem or Tel Aviv. A car is the most convenient way to travel, but tours are also available at good prices.
Alternatively, you can also take public transportation, there are multiple buses that can get you around -numbers 444 and 486-. However, bear in mind that public buses don't run on Friday evenings, Saturdays, and Jewish holidays.
Key Takeaways
The Dead Sea is a unique destination that offers various health benefits. It may be an ideal destination for those who find it hard to travel due to joint pain, or simply want to improve their skin health.
Nevertheless, the Dead Sea's appeal goes beyond its medicinal properties, as it also boasts stunning views, making it a truly remarkable destination.
Want to get tested before your next adventure? No matter where you are, or what type of test you need, find COVID testing locations near you with our international directory.