Rice Terraces in China: Discover 4 Natural Wonders
·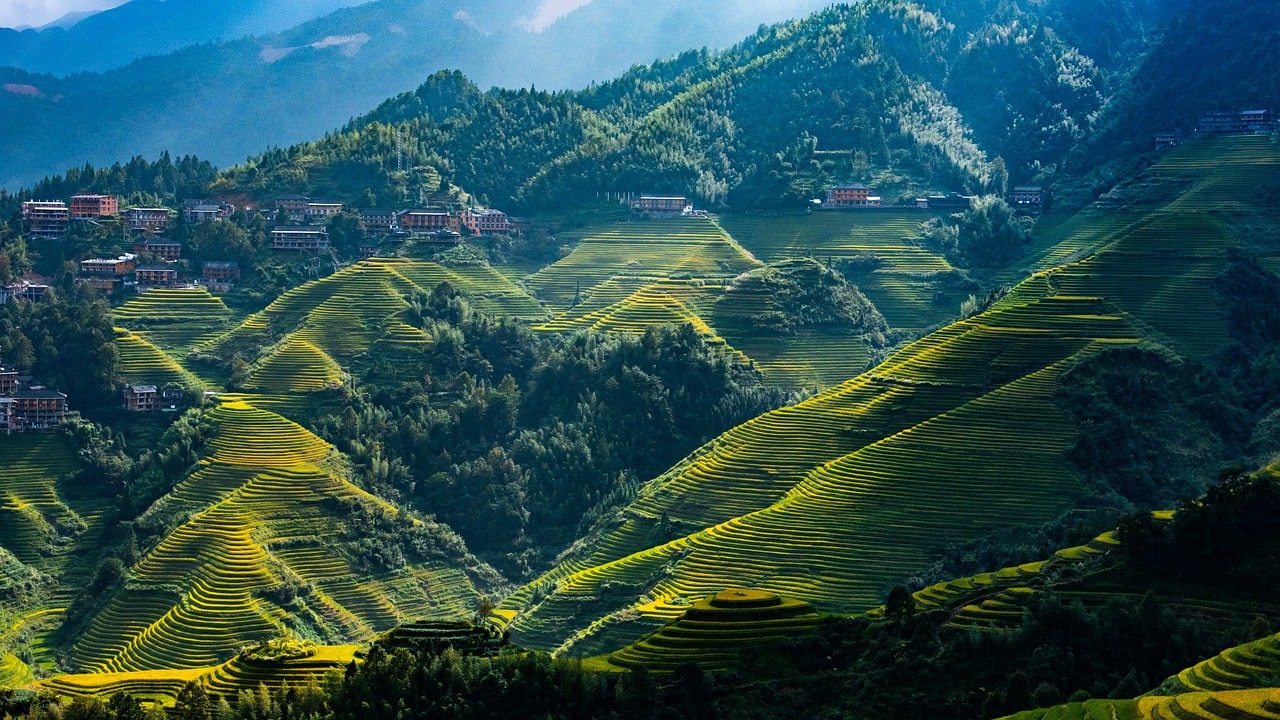 Rice, the first wild grain domesticated by humans, has been a staple food in China for over 9,000 years. The fertile plains of the Yangtze River valley were perfect for rice cultivation, but what about the hilly terrain?
Rice needs water for optimal growth, posing a challenge in southern China's hills. . Water would flow downhill, leaving no room for rice.
The solution was both practical and beautiful: carving massive paths into the hills, creating pools for water to nurture the rice. This ingenious system has fed China's population for thousands of years.
But these terraces offer more than sustenance. The rise of tourism has transformed them into captivating destinations, with some earning UNESCO World Heritage Site status.
In this article, we'll introduce you to four of China's most stunning rice terraces.
Let 's go!
Jiabang Rice Terrace
Located in Guizhou Province, in southwestern China, Jiabang boasts beautiful rice terraces covering almost seven square kilometers, spanning seven villages.
Jiabang's charm lies in its cultural diversity. Immerse yourself in Miao people's culture, characterized by unique wooden architecture and vibrant attire.
You can visit the rice terraces from spring to autumn, as each season brings something unique. In the spring, the waters mirror the sky. In the summer, they grow into lush, green rice carpets, turning golden in the fall. Bus transportations is available from neighboring counties of Congjian and Rongjian, or you can opt for a private trip.
Jiangling Terrace
Located in Wuyuan County, often dubbed "the most beautiful countryside in China," Jiangling Terrace lives up to its reputation.
Deep valleys surrounded in mist, adorned with millions of rapeseed flowers in the spring, create a golden river in the valley. The black and white houses of the Hui people, who inhabit the villages surrounding the terraces, add to the landscape's charm.
Bus transportation is a viable option for getting to the Jiangling terraces, guided tours are recommended for a richer experience!
Longji Rice Terraces
Nestled in the Guanxi Autonomous Region, the Longji or Longsheng rice terraces, known as the "Dragon's Backbone," rank among China's most enchanting sights.
These terraces are unique as they're worth visiting year-round, even during winter when they're covered in snow. Hiking is the preferred activity, with short and long circuits available. The longer circuit takes about 5 hours from one end to the other.
For an ideal trip, start in Guilin and then take a bus to the terraces.
Honghe Hani Rice Terraces
Recognized as a UNESCO World Heritage Sites, the Honghe Terraces, located in Yunnan Province near the border with Laos and Vietnam, resemble an otherworldly landscape These terraces that resemble an alien landscape are located in the province of Yunnan, near the border with Laos and Vietnam.
Despite steep hills, the local Hani people transformed almost a million acres of land into gorgeous rice terraces spanning four different counties. These ancient terraces, standing for more than a thousand years, are best visited in the springs when the pools reflect the sky and mountains, flowers bloom and the weather is mild.
While reaching these terraces isn't as straightforward, the breathtaking scenery makes the effort worthwhile. A private vehicle is the best mode of transportation.
Visiting Rice Terraces in China and COVID Travel Restrictions
China's amazing rice terraces are a microcosm of its rich history, offering a glimpse into the past surrounded by natural beauty.
New guidelines for entering China during COVID have been established, so travelers are no longer mandated to present a negative COVID test before flying. Filling out a health declaration form on China's customs website is now the only requirement.
Once in China, rapid antigen testing may be needed if travelers:
Show signs of a fever or other symptoms
Give a suspicious health declaration
Testing positive may lead to recommendations to wear masks and think about self-isolation. Quarantine due to coronavirus is now optional. To locate an in-China COVID testing site, regardless of location or test type, refer to our global directory.