Pre-Flight Covid-19 Checklist
·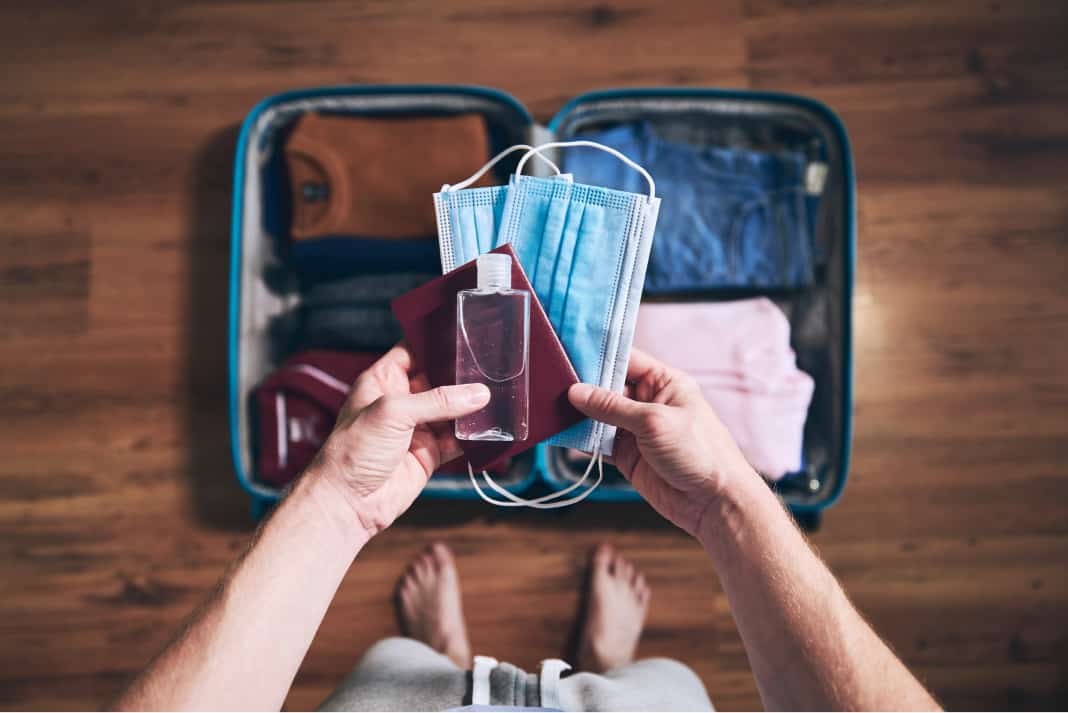 Whether you're a first-time traveler or a frequent one, there are always things to prepare and think of before heading on a new adventure. And since Covid-19 became part of our lives, the travel experience was forced to change.
That's why we have put together an up-to-date pre-flight Covid-19 checklist. Keep reading to learn everything you should bear in mind during your next trip.
Pre-Flight Covid-19 Checklist
To make your flight as safe and smooth as possible, we recommend you:
Check every detail in your itinerary
Have a clear idea of when you should arrive at the airport
Make sure you have all the travel documents you'll need
Have a vaccination certificate or a negative PCR (requirements will vary)
Get travel insurance, even if you're unlikely to use it
Communicate your special needs to the airline
Understand your airline's baggage policy
Take essentials with you, in your carry-on bag
Learn about customs restrictions
For faster customs checks, leave gifts unwrapped
Take your hand sanitizer with you
Wear a face mask, and take some extra ones with you
Let's take a closer look.
Getting Ready
Check Every Detail In Your Itinerary
Pay close attention to the date and time of your flight. Sometimes errors can occur, either on your part or the booking system. Hence, check that both time and departure dates are accurate.
If you plan to do a stopover, make sure you have enough time to get around terminals. Not all airports are the same size, some can be huge and others are rather cozy. Generally, you can find all the information you need on the airport's website.
Be Careful With Night Flights
Especially if you'll be flying at midnight, it's easy to get confused or distracted and miss the flight. If the flight is supposed to depart on Sunday at 00:15, that means that you will have to be at the airport on Saturday night.
In other words, verify that not only all the data in your ticket is accurate, but also that the timings make sense. And if something doesn't quite click, make the necessary changes.
Make Sure You Have All The Required Travel Documents
To enter your chosen destination, you will be asked to hand in a couple of documents, which will vary according to your country of destination and your nationality. Hence, for some countries, you may require a visa, for others just your passport, and for others, your ID will suffice.
In either case, such documentation must always meet the following requirements:
It must include your name, date of birth, and gender
It must be valid for the whole duration of your trip (including departure and returning date)
It must match your name as it appears on your plane ticket
In addition, if you are making a stopover in a country other than your destination, check if a visa is required to do so. There are countries like the US or Canada where even if you are to stay there for a couple of hours, you must have a visa to get in.
Bring Your Covid-19 Certificate
When arriving at your destination, you may also be required to prove that you are Covid-free. Depending on your destination, you may either need a vaccination credential or a negative Covid test. Each country has its own policies regarding its approved vaccines, and tests.
Our global travel requirements search tool is a great place to start. But you'll find the most comprehensive information on the local health authorities' website.
Get Travel Insurance
This will come in handy in case of an inconvenience, such as getting sick during your trip, or the airline accidentally misrouting or damaging your luggage. Chances are you won't put your travel insurance to use. But it's always better to be safe than sorry, especially in pandemic times.
Let The Airline Know About Your Special Needs
Whether you need a special meal or wheelchair access, let the airline know in advance. In most cases, you can add this information to your reservation during your online check-in, 48 hours before your flight.
Packing
Mind The Baggage Policy
Baggage regulations will differ according to the airline, and the type of flight you'll take. Therefore, we recommend you take note of the corresponding carry-on and checked baggage size and weight restrictions.
Make The Most Of Your Carry-On Bag
As we already mentioned, there are rare cases in which the checked baggage is accidentally misrouted by the airline. With that in mind, we recommend you always pack your valuable items (such as medication, electronics, money, or car keys) in your carry-on bag, thus you can keep them with you at all times.
Additionally, you can carry a change of clothes in it. If you are left without your bags for a day or two until the airline returns them to you, or your connection flight needs to be rescheduled due to weather conditions, you will already have everything you need and won't have to go shopping.
Moreover, be careful when it comes to weight restrictions. Sometimes the indicated weight applies to both your personal items (like a backpack) and the carry-on bag, and sometimes it only applies to the bag, without considering the personal item. So, if you don't want to pay extra charges, or throw away stuff at the airport, pay close attention to the airline's policies. You'll find this information on their website.
Get Acquainted With Customs Information
Each land has its own policy regarding the goods that travelers can bring with them. This can apply to cigarettes, alcohol, plants, electronics, etc. Therefore, if you don't want anything to be discarded in front of your eyes by a customs officer, check their website before packing.
Leave Gifts Unwrapped
In the case of a security or customs check, where your belongings would need to be inspected, it's always better to have easy access to your stuff. By keeping things unwrapped, the agents can work faster and more efficiently, and save you time.
Don't Forget Your Hand Sanitizer
Airports and airplanes are equipped to be safe during these pandemic times, however, it is always good to bring your own sanitizer to keep your hands clean at all times. And as long as you're carrying a travel-size bottle (under 100ml), airport security is very unlikely to consider your hand sanitizer dangerous.
Get The Face Masks You'll Need During Your Flight
Flying is extremely safe, as long as you wear a face mask.
Considering that face masks need to be changed every couple of hours, take some extra masks with you. When deciding how many masks you need, contemplate not only the duration of your flight, but also the time that it takes you to arrive at the airport, get on board, and get to your accommodation once you have landed.
In other words, think not only of the flight itself but how long it takes you to go through all the stages of flying.
Final Thoughts
Since the pandemic initially hit, we have learned how to stay safe, not only in our hometowns but also while exploring new places. As long as you are cautious, you can enjoy your trip to the fullest.
One way to prevent the spread of Covid-19 while traveling is to get tested regularly. Find testing locations within your area on our international directory.