Traveling During the New Covid Outbreak: How to Stay Safe During the Omicron Wave
·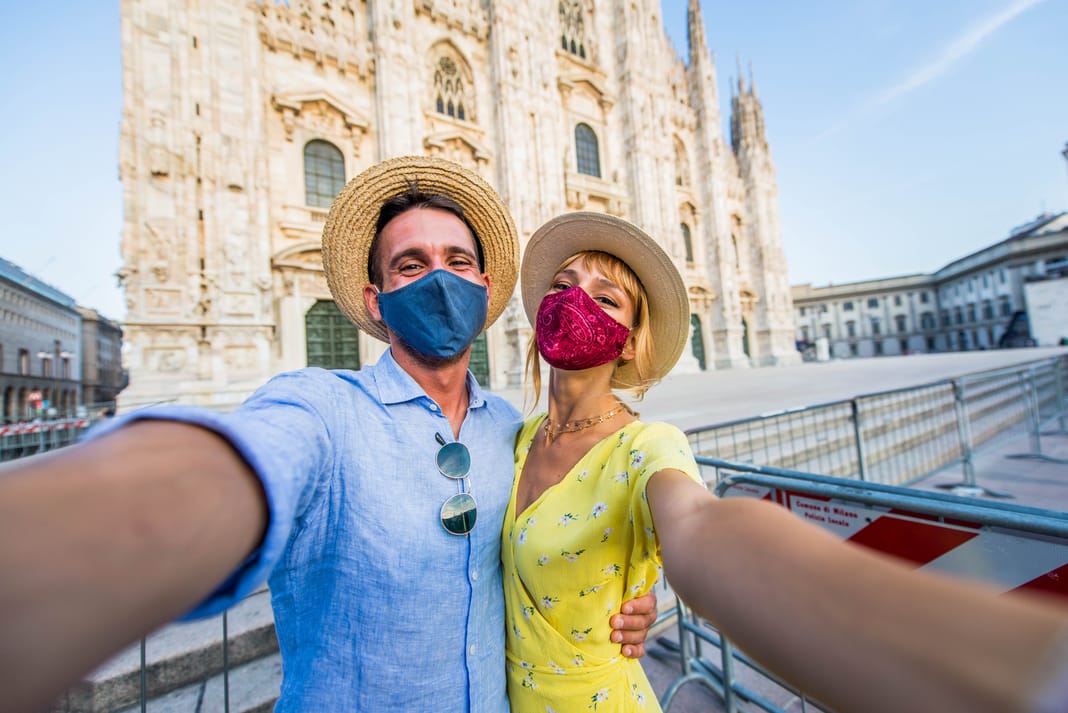 Omicron, the new variant of the Covid-19 virus, is spreading fast. As researchers study this new strain, we should all remain cautious.
If you plan to visit another city or country, you might be wondering how to stay safe. Traveling by plane isn't high-risk. But still, during these uncertain times, it's wise to take extra precautions.
In this article, we'll share our best tips to stay safe while traveling during the new Covid outbreak. Let's begin.
Before Boarding
During the past 2 years, practicing social distancing has been one of the key ways to stay Covid-free. But sometimes, crowds can be hard to avoid. This is especially the case at airports, where you have to wait in line for pretty much everything.
However, there are some things you can still do to have a calm and worry-free trip:
Get tested
Avoid rush hours
Get to the airport early
Check your baggage
Wear a medical-grade mask
In this section, we'll take a look at these five tips. But, if you're looking for a full guide, check out our pre-flight Covid checklist.
Get Tested
Even if you're not required to, try to get tested before boarding. That's the best way to make sure you're not infected and you won't expose others to the Covid-19 virus.
Avoid Rush Hours
All airports have peak hours when many flights are boarding at the same time.
In the US, peak hours tend to take place twice throughout the day:
Between 5 am and 7 am
Between 4 pm and 6 pm
You may want to look for flights that board outside these timeframes. That way, you can make sure you won't have to deal with a high number of people during your security screening, at customs, or in waiting areas.
Get to the Airport Early
You should arrive two hours before departure for domestic flights, and three hours for international flights. This is great to avoid crowds during your check-in and security checks.
Help the Security Line Go Fast
As you may already know, there are certain things that can't be taken into a commercial aircraft's cabin. If airport security detects any of these items, an officer will inspect your carry-on, and ask you to remove the item. As a consequence, more people will have to wait in the security line.
Check your luggage before leaving for the airport, and make sure you're not carrying any problematic items. TSA offers a list that you can use as a reference of what you can and cannot carry when boarding the plane.
Moreover, if you are traveling within the USA, you can sign up for a TSA Pre-Check, which will make things go even faster.
Get Fancy with Your Face Mask
You will be required to wear a face mask on the plane in order to protect yourself and other travelers. But instead of wearing a regular one, choose among the highest quality masks on the market.
Medical experts usually recommend three types of face masks:
By wearing a medical-grade mask instead of a regular cloth mask, you'll be much more protected.
Once You've Landed
Whether you're meeting your loved ones or going on vacation, you've probably taken all the necessary safety measures. Nevertheless, there are a few extra steps that you can take once you've landed.
These simple measures include:
Moving by car, instead of public transportation
Getting re-tested
Not sharing accommodation with people with high-risk medical conditions
Gravitating towards outdoor activities
Get a Car
Oftentimes airports are located far from the city center. So, you will have to take a long ride to get to your accommodation. If possible, try to avoid taking public transport and get a car instead. By traveling by car (whether it's a rented vehicle or a taxi), you will be less likely to be in contact with an infected person.
When in Doubt, Get Re-Tested
If you suspect that you might have been exposed to the virus at the airport or during your flight, but you are not showing any symptoms yet, getting re-tested 3 days after landing is an excellent way to go.
Thus, the infection will have enough days to mount, and a rapid test will be able to pick it up. As a matter of fact, it would be even better if you got a rapid test right before any events or group activities, so you can be 100% sure of being covid-free.
Have Accommodation For Yourself
You may be planning to stay with friends or family during your trip. However, if you'll be staying in the same home as someone with a high risk of severe infection, it'd be better if you had a space of your own instead. That way, you can avoid constant contact, and lower the chances of infection.
Choose Outdoor Activities
Are there no lockdowns in place at your destination? Great! Have some fun! Go around town but keep it low-key. There's no need to head to a crowded bar or shopping mall every single day. Traveling these days can be a great opportunity to go for a walk and discover those amazing places that don't usually make it to the travel guides.
Traveling During the New Covid Outbreak? Get Tested!
Omicron is spreading fast. But you can stay safe while traveling. Bear in mind that due to the new Covid outbreak, many countries have applied some travel restrictions. Make sure you check your destination's Covid-related policies before you travel.
Nonetheless, there is one practice that health authorities around the world agree on: Getting tested and practicing social distancing are the best ways to keep the virus from spreading.
Planning to get tested? Discover Covid-19 testing locations in your area.