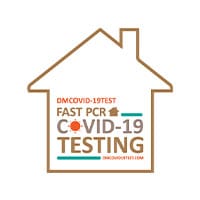 DM Covid-19 Test
PCR & Antigen tests in Philadelphia, PA, United States
Send a message
Please note that we can not guarantee a response. If you do not hear back, please call this testing location for more information.
---
Get in touch directly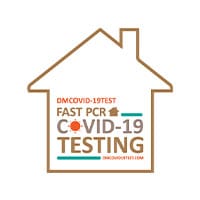 DM Covid-19 Test
Location

1229 S Sixth St, Philadelphia, PA, United States

Phone
PCR
Nasal Swab
RT-PCR is sent out to our CLIA certified CAP accredited lab. Rapid PCR option is available.
Antigen
Nasal Swab
Rapid antigen test completed with fast results
Other locations near by
Jefferson Health – Warminster

Location

Warminster, PA, United States

---

Delaware Diagnostic Labs

Location

Newark, DE, United States

---

PCR 24 hours

Antibody 24 hours

Immediate Care

Location

Marlboro, NJ, United States

---

PCR 72 hours

Antigen 72 hours

Antibody 72 hours

Immediate Care

Location

Edison, NJ, United States

---

PCR 72 hours

Antigen 72 hours

Antibody 72 hours

Jefferson Health

Location

Cherry Hill, NJ, United States

---

Liberty Urgent Care

Location

Horsham, PA, United States

---

PCR 72 hours

Antigen minutes

Antibody hours

myDoc Urgent Care

Location

Philadelphia, PA, United States

---

PCR 72 hours

Antigen 20 minutes

Antibody hours

myDoc Urgent Care

Location

Philadelphia, PA, United States

---

PCR 72 hours

Antigen 20 minutes

Antibody hours

myDoc Urgent Care

Location

Philadelphia, PA, United States

---

PCR 72 hours

Antigen 20 minutes

Antibody hours

myDoc Urgent Care

Location

Philadelphia, PA, United States

---

PCR 72 hours

Antigen 20 minutes

Antibody hours

ProHealth Care

Location

Staten Island, NY, United States

---

PCR 72 hours

Antigen 15 minutes

Antibody 72 hours

Riverside Med Group

Location

Medford, NJ, United States

---

Vybe Urgent Care

Location

Philadelphia, Pennsylvania, United States

---

PCR minutes

Antigen Same day

Antibody minutes

Vybe Urgent Care

Location

Philadelphia, PA, United States

---

PCR minutes

Antigen Same day

Antibody hours

Vybe Urgent Care

Location

Philadelphia, Pennsylvania, United States

---

PCR minutes

Antigen Same day

Antibody hours

Vybe Urgent Care

Location

Philadelphia, PA, United States

---

PCR minutes

Antigen Same day

Antibody hours

Vybe Urgent Care

Location

Philadelphia, PA, United States

---

PCR minutes

Antigen Same day

Antibody hours

Any Lab Test Now – Newtown, PA

Location

Langhorne, PA, United States

---

PCR 60 hours

Antibody 60 hours

Any Lab Test Now – Newark, DE

Location

Newark, DE, United States

---

PCR Same day

Antigen Same day

Antibody Same day

NJ Doctors Urgent Care

Location

South Amboy, NJ, United States

---

PCR 48 hours

Antibody 48 hours

Any Lab Test Now – Springfield, PA

Location

Springfield, PA, United States

---

PCR 48 hours

Antibody 48 hours

Omnia Diagnostics

Location

Cranbury, NJ, United States

---

Frontage Lab

Location

Exton, PA, United States

---

PCR 6 hours

Antibody 6 hours

RapiCare

Location

Horsham, PA, United States

---

PCR 24 hours

Antigen 10 minutes

Passport Health

Location

Lawrenceville, NJ, United States

---

PCR 72 hours

Antigen 72 hours

Passport Health

Location

Philadelphia, PA, United States

---

PCR 72 hours

Antigen 72 hours

Passport Health

Location

Warrington, PA, United States

---

PCR 72 hours

Antigen 72 hours

DM Covid-19 Test

Location

Philadelphia, PA, United States

---

PCR 2 hours

Antigen 2 hours

DM Covid-19 Test

Location

Philadelphia, PA, United States

---

DM Covid-19 Test

Location

Middletown, DE, United States

---

PCR 1 hour

Antigen 1 hour

Certified

Willey Pharmacy

Location

Bear, DE, United States

---

Antigen 30 minutes

PCR 60 minutes

15toKnow

Location

King Of Prussia, PA, United States

---

PCR 30 minutes

Antigen 15 minutes

Antibody 15 minutes

15toKnow

Location

Plymouth Meeting, PA, United States

---

PCR 30 minutes

Antigen 15 minutes

Antibody 15 minutes

15toKnow

Location

Exton, PA, United States

---

PCR 30 minutes

Antigen 15 minutes

Antibody 15 minutes

Navus Health

Location

Princeton Junction, NJ, United States

---

PrimBio Research Institute

Location

Newtown Square, PA, United States

---

WiseLab

Location

Voorhees, NJ, United States

---

PCR Same day

Antigen 15 minutes

King Boulevard Pharmacy

Location

Trenton, NJ, United States

---

PCR 30 minutes

Antigen 15 minutes

Providence Healthcare Diagnostics

Location

Plainfield, NJ, United States

---

PCR 3 hours

Antigen 1 hour

King Boulevard Pharmacy remote testing

Location

Burlington, NJ, United States

---

PCR 30 minutes

Antigen 15 minutes
Business information
Address

1229 S Sixth St, Philadelphia, PA, United States

Phone

Website
Report inaccurate information
Report this listing
Is any information on this listing inaccurate? Please let us know below the misrepresented information