Does Your EU Covid Certificate Expire? Learn the Latest Updates
·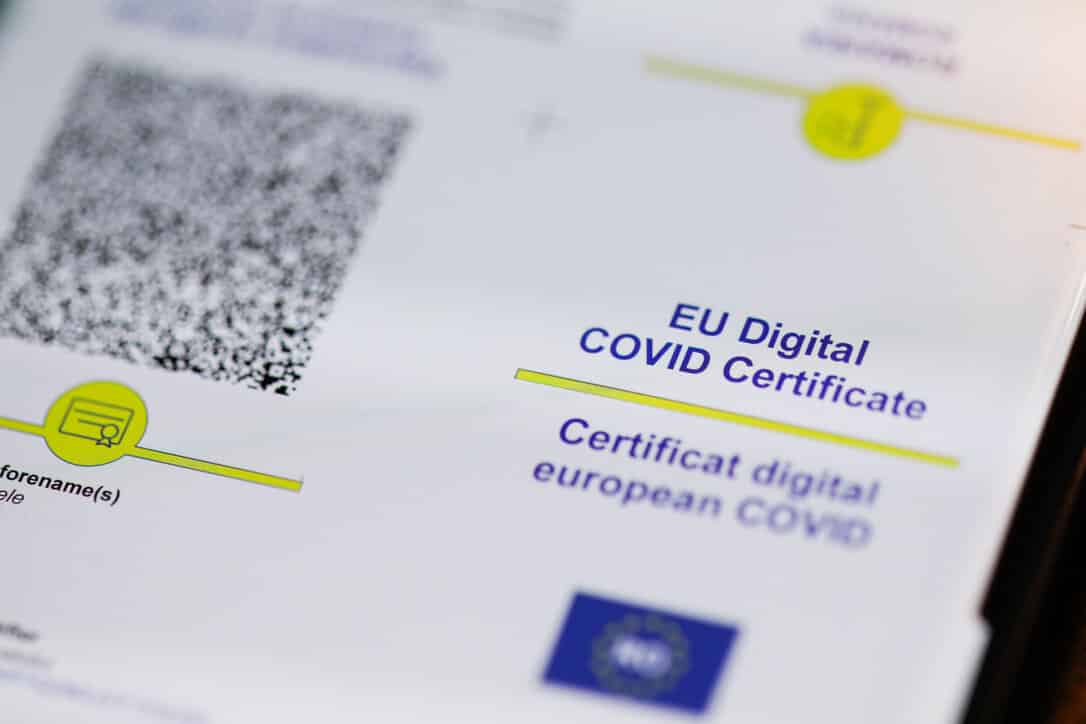 In 2021, nations around the world sought to make travel a smooth and enjoyable experience again. In Europe, the EU resolved to establish a certificate for travelers to prove their Covid-19 status throughout the continent. This document is known as the EU Covid Certificate.
However, since the omicron outbreak, most European countries have tightened up their local and travel restrictions to keep their people safe. This included banning inbound travel from the UK and Southern Africa, and implementing "covid green passes" to attend venues. As a result, the EU Commission has recently decided to add some new rules around the EU Covid Certificate, which will take effect on February 1st, 2022.
In this article, we'll explain everything you need to know about these updates, and how they can affect your travel plans. Let's get started.
Brief Recap: EU Covid Certificate
In October 2021, the EU decided to launch a Covid certificate for EU nationals and residents. The goal was to simplify travel around the continent.
This document certifies your Covid-19 status and indicates one of the following:
You've been vaccinated against Covid-19 (and the number of doses you got)
You have recovered from Covid-19 in the last 90 days
You have recently tested negative for Covid-19
If you are traveling through Europe, this is an important document you must bring along. Besides, you can also use it as a "Covid green pass" equivalent, to access venues in most EU nations, as well as in the UK.
You can check out our EU Covid Certificate guide for more detailed information on how to get it. We also included a list of the non-EU countries that accept it.
What Are the New Rules?
Up to this point, the EU Covid certificate only considered the first and second dose of all vaccination schemes. However, as you might already know, a new "booster" dose has recently been implemented.
These new changes on the EU Covid Pass involve recording the booster dose on the certificates. As a result, the certificate's validity will also be modified. Let's take a closer look.
Record Changes
From now on, booster doses will be recorded as follows:
3/3: for a booster dose, after a 2-dose vaccination scheme
2/1: for a booster dose, after a single-dose vaccination scheme
2/1: for a booster dose, administered to a recovered person, after one dose of a 2-dose scheme
Validity
Your certificate will be valid for 270 days (ca. 9 months) after you completed your previous vaccination scheme. And once you get your booster dose, its validity will be extended without a set limit.
The reason for this, according to the European Commission, is that the booster dose is recommended six months after the completion of the first vaccination scheme, at the latest. However, to give the governments enough time to set their vaccination campaigns and coordinate travel measures, there will be a 3-month grace period.
Besides vaccination campaigns, this three-month window will also give travelers and businesses enough time to plan their trips with confidence. This is extremely important, given the uncertainty caused by the Omicron wave.
Nonetheless, as of this writing, there is no scientific evidence proving how long the protection from the booster lasts. Hence, the validity of the certificate after this dose may change in the future.
Do You Need To Re-Issue Your Certificate?
If you've already got a Covid Certificate, you won't need to re-issue it. The certificates aren't dated. So, regardless of whether you hold the digital or paper version, you won't have to do anything to extend your certificate's validity.
How will it work then? Well, the mobile apps that are used to verify the certificates will be updated. They will be adjusted to check whether 270 days have passed since you completed your vaccination scheme.
Key Takeaways
As we mentioned earlier, the EU Covid Certificate was initially launched in October 2021. Since then, 807 million certificates have been issued, and over 60 countries have enacted similar measures to facilitate travel or access to local venues.
It's become clear that Covid-19 international travel restrictions will continue to be updated as circumstances change and new information about the virus becomes available.
However, there is one thing that hasn't changed since the beginning of the pandemic: Getting tested is key. Frequent testing has been proven to help ease the spread of the virus and keep everybody safe.
Wondering where to get tested? No matter where you are, or what type of test you need, discover Covid-19 testing locations near you with our international directory.